Tektronix Indonesia - MDO4000C Mixed Domain Oscilloscope
The most powerful mixed domain oscilloscope, the MDO4000 combines up to six instruments including options like a function generator and a built-in spectrum analyzer. Unlike any other instrument, it can synchronize RF, analog and digital channels – giving unprecedented insight into your design.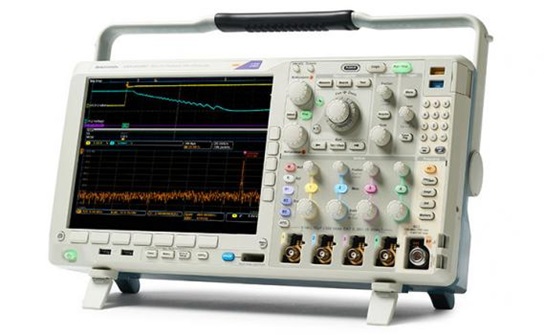 More than just a powerful scope

Engineering designs today are a complex mix of processors, serial buses, and wireless interfaces. At the core of the MDO4000C is a reputable Tektronix oscilloscope paired with an expandable platform. Customize it to your testing needs. Add 16 logic channels, a 50 MHz arbitrary/function generator, protocol analysis, and an integrated true hardware 3 or 6 GHz spectrum analyzer to help tackle complex designs challenges.

Highlights

Integrated triggered acquisition system - over 125 trigger combinations in the time AND frequency domains
20 Mpoint record length with Wave Inspector® controls
True spectrum analyzer hardware enables real spectrum analysis
Expandable functionality ensures usefulness well into the future
Accurate Measurements Matter

Put simply, the MDO Series scopes are designed to make the most accurate measurements in the industry – providing an unrivaled view into your designs. The MDO4000C takes measurements on actual acquisition data, while many other instruments only offer a snapshot view by taking measurements on display data. It doesn't end there. We guarantee more specifications than many of our competitors, ensuring the MDO4000C will give you total confidence in your measurements. After all, measurement accuracy impacts design integrity. Why settle for anything less than precise?
Industry Leading Probes – included with every purchase.

When examining the measurement signal path, probes are a key element that cannot be overlooked. When you buy an MDO4000C the industry's best probes are included in the price. Featuring industry-best loading of 3.9 pF and bandwidth matched to your oscilloscope, the TPP-series probes will be your go-to probe for everyday use.

Highlights

TPP-series probes included standard, one per analog channel
Industry-best capacitive probe loading of 3.9 pF
500 MHz or 1 GHz probe bandwidth to match the scope's bandwidth
Wireless Measurements - at a whole new level

 

Whether RF measurements make you smile or cringe, the MDO4000C oscilloscope with integrated hardware spectrum analyzer and SignalVu-PC software has you covered. Unlike oscilloscopes that offer FFT "spectrum analysis," the MDO4000C with true spectrum analyzer provides a triggered acquisition system that is integrated across analog, digital and spectrum analyzer channels. You can perform RF measurements up to 6 GHz, and correlate events in the frequency domain with the time domain phenomena that caused them.

Highlights

Base spectrum analyzer, included standard
Available 3 or 6 GHz spectrum analyzer option
Industry's only true integrated spectrum analyzer hardware
Models
| Model | Analog Bandwidth | Sample Rate | Record Length | Analog Channels | Digital Channels | Spectrum Analyzer | Function Generator Output |
| --- | --- | --- | --- | --- | --- | --- | --- |
| MDO4024C | 200 MHz | 2.5 GS/s | 20 Mpoints | 4 | 16 (optional) | Up to 6 GHz | 1 (optional) |
| MDO4034C | 350 MHz | 2.5 GS/s | 20 Mpoints | 4 | 16 (optional) | Up to 6 GHz | 1 (optional) |
| MDO4054C | 500 MHz | 2.5 GS/s | 20 Mpoints | 4 | 16 (optional) | Up to 6 GHz | 1 (optional) |
| MDO4104C | 1 GHz | 2.5 - 5 GS/s | 20 Mpoints | 4 | 16 (optional) | Up to 6 GHz | 1 (optional) |