De Lorenzo Indonesia
Automation
The automation is the use of control systems to control industrial systems and processes and PLC play a fundamental role in this field.
For this reason the automation laboratory begins from the study of the PLC, to allow students the acquisition and the analysis of the techniques related to their programming and their use in control technology, then continues with the presentation of all applications, with the theme of process control and ends with systems for the study of pneumatic, electro-pneumatics, Hydraulics and dell'electro-Hydraulics.
Products
PLC
Interactive Systems
Automatic Control Technology
Simulators
Electric controls
Process Control
Pneumatics
Hydraulics
Brushless
Robotics
Mechatronics (CIM)
---
Electronics
The design and construction of electronic circuits to solve practical problems is an essential technique in the fields of electronic engineering and computer engineering.
Therefore, it is necessary for students to acquire an in-depth knowledge of all the basic circuits, such as amplifiers, oscillators, filters, converters, and then to test their knowledge through simple, but important applications in the field of process control and PID techniques.
The products described in this section give students all that is needed to start their first steps in this fascinating world of Electronics.
Linear circuits, digital circuits, logic gates, significant applications coming from the real industrial world, all explained in a simple, gradual way through a combination of theory and experiments.
De Lorenzo offers two different versions, one that consists of closed panels, of very robust construction and clear serigraphy on the front, and another one composed of open boards with components at sight and provided with CAI software.
Products
Panel System
Boards System (TIME)
Biomedical
---
Renewable Energies and Smart Grid
Renewable energies are those forms of energy that are generated from sources that regenerates themselves or are inexhaustible. Through our didactic systems we explain their operating principles: Photovoltaic solar energy, Thermal solar energy, Wind energy, Fuel cells, Biodiesel, Etc.
Products
Solar Photovoltaic
Solar Thermal
Wind
Fuel Cells
Biomasses
Automotive
Solar-Wind-Hydrogen
Hybrid Systems
Hydroelectric power
Energy Efficiency
Smart Grid
---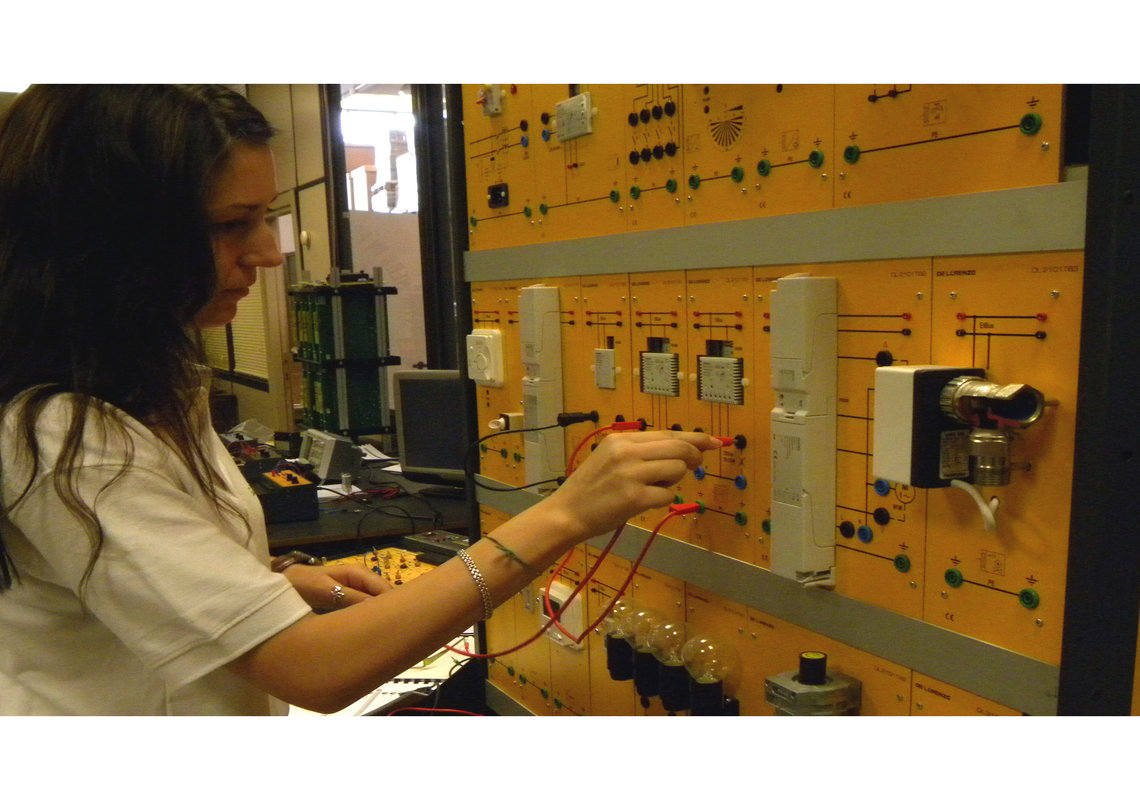 Electrical Installations
This catalogue has been conceived for the presentation of the De Lorenzo panel type electrical installations laboratories.
It includes the series DL 2101T, for civil installations, the series DL 2102T, for industrial installations and the series DL 2109T, for the study of electrical measurements.
The modules composing the laboratories are made of real components assembled on isolated panels for insertion in work frames.
Unit symbols and standardized mimic diagram are displayed on the front panel and the connections are made via sockets meeting safety standards.
Products
Civil
Industrial
Electrical measurements
Protections
---
Home Automation
Laboratory for the study of the building automation technology.
Objective of the laboratory is to perform the automatic management of the buildings, both commercial and residential.

The performed functions are the following:
control of the light
control of the shutters
control of the heating
management of the loads
display, information, operator control, monitoring and detection
interfaces and other systems
---
Electric Machines
Electric machines laboratories: 0.2 kW, 0.3 kW and 1.1 kW.


Each laboratory is composed of:
basic autonomous benches with power supplies capable of providing all voltages, in AC or DC, fixed and variable and stabilized in order to develop a course on electrical measurements and electrical machines;
universal bases to assemble the machines and to couple them to the other machines of the laboratory;
motors, generators, transformers, brakes, RLC loads, instrumentation and accessories to perform any test on electrical machines.

Each electric machine is equipped with a comprehensive training manual showing all tests that can be performed at no-load and load conditions.
Products
Test Bench
Openlab 0.2 kW
Electrical machine laboratory
Electromechanical constructions
Rated data vs real data
---
Telecommunications
In this catalog we have tried to group all the systems that have been designed by De Lorenzo for the study of telecommunications in order to provide our customers with a wide choice to suit their specific needs.
The laboratory is divided into three broad categories:
ICT
Transmission Systems
Telephony
Products
Transmission systems - board system
Telephony
ICT
---
Power Electronics
Laboratory for the study of power electronics, that allows students a practical learning based on guided exercises.
Starting from basic principles, with the aid of detailed training manuals, the student follows a didactic path in a gradual and systematic study of complex circuits.
Products
Introduction
AC-DC conversion - Diodes and SCR
AC-AC conversion - TRIAC and phase control
DC-DC conversion - Chopper and switching supplies
DC-AC conversion - Inverter and frequency converters
DC and AC motor driving
Software
Modules for the configurations
Scope acquisition
---
Electrical Power Engineering
This laboratory is focused on the topic of the generation, the distribution and the utilization of the electrical energy, used for both industry and domestic applications.
The trainer is composed of a set of modules for the simulation of the various subsystems forming a complete electrical power system, from power generation to energy utilization.


It can be subdivided into four major study areas:
Power Generation
Power Transmission and Distribution
Protection Techniques
Energy Utilization
Products
Introduction
Power Generation
Power Distribution
Protection Techniques
Energy Utilization
Power engineering modules
Wind Power Plant
Smart grid
Scope acquisition
---
Autotronics
Laboratory that allows the theoretical study and the practical analysis of the problems related to the field of electrical and electronic technology applied to automobiles.
The laboratory consists of the following: a set of modules for the study of basic electricity and main electric circuits, a set of simulation panels for electric and electronic systems in modern automobiles, complete with dedicated software for demonstration of the relevant theory and introduction of simulated faults, a set of panels with real components for demonstration and a set of sectioned components.
Products
Basic studies systems
Ignition
Electric Circuits / Plants
Lighting
Engine operation
Injection
Braking
Emissions Control
Safety
Conditioning
Green Engine
Industrial Vehicles
Diagnosis
---
Thermotronics
The laboratory consists of a set of simulation panels and of demonstrators with real components that allow studying and performing practical tests in refrigeration and air conditioning.
The simulation panels are supplied with a CAI software that allows students to develop all the learning activities through a PC.
If the PCs are connected to a computer network, a laboratory management software allows a complete control by the teacher of all the activities within the laboratory.
Both the simulation panels and the demonstrators are provided with a fault simulation system.
Products
Air Conditioning
Refrigeration
Heating and Sanitary Plants
Software
Heat transfer