Fameca Indonesia - Distributor Fameca
Fameca Multi-Purpose Telescopic Insulating Stick Penta-Pole
The Penta-Pole insulating stick is Fameca's new telescopic stick for Medium Voltage overhead networks. Its new pentagonal shape combines ergonomics & effectiveness in use. Infact, with its new fibre structure, its mechanical strength is 15% greater than other types of stick. This makes it more rigid, & therefore easier to handle. Made up of between 2 & 9 segments, this stick adapts to all types of uses & can reach great heights, up to 12 metres.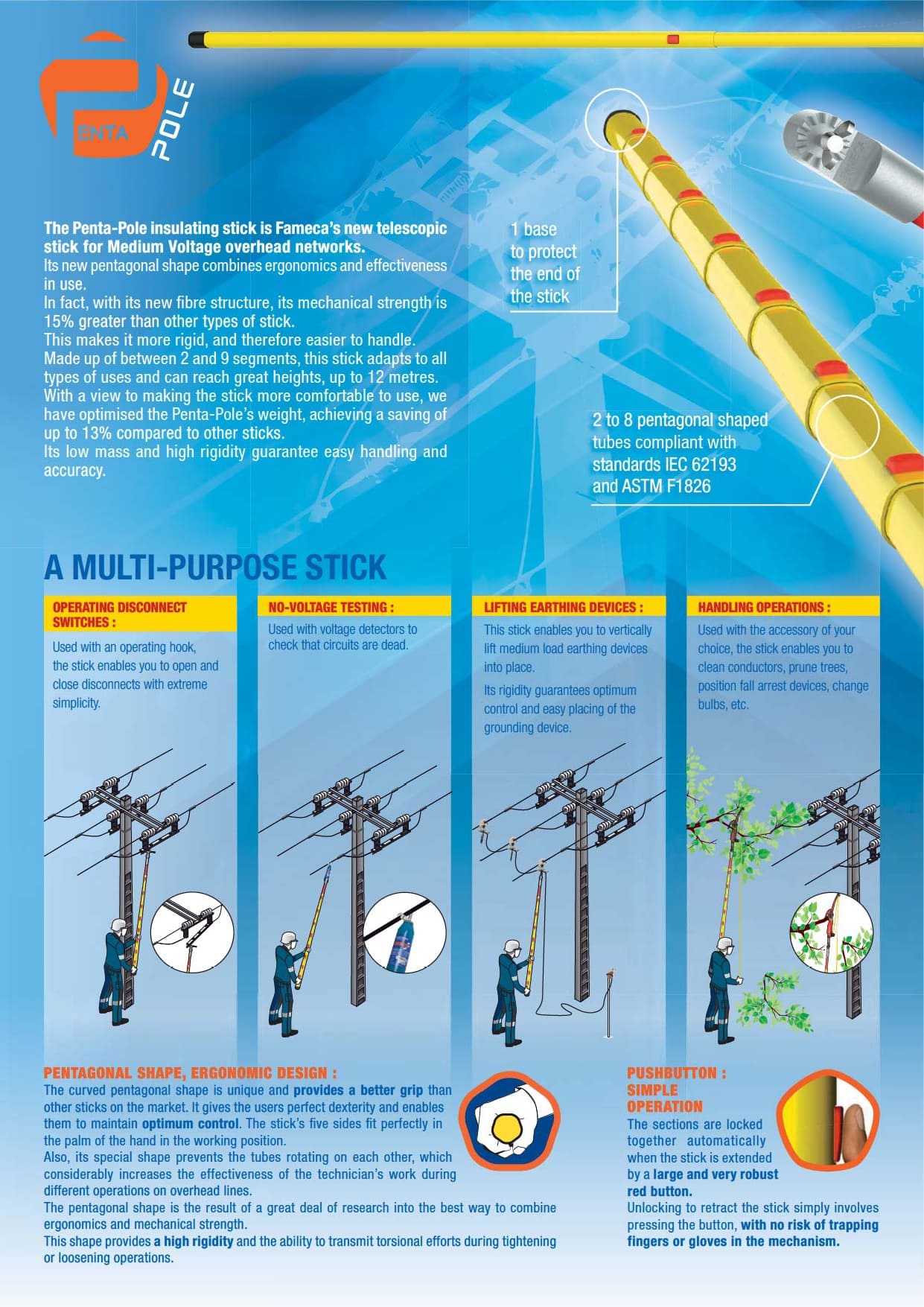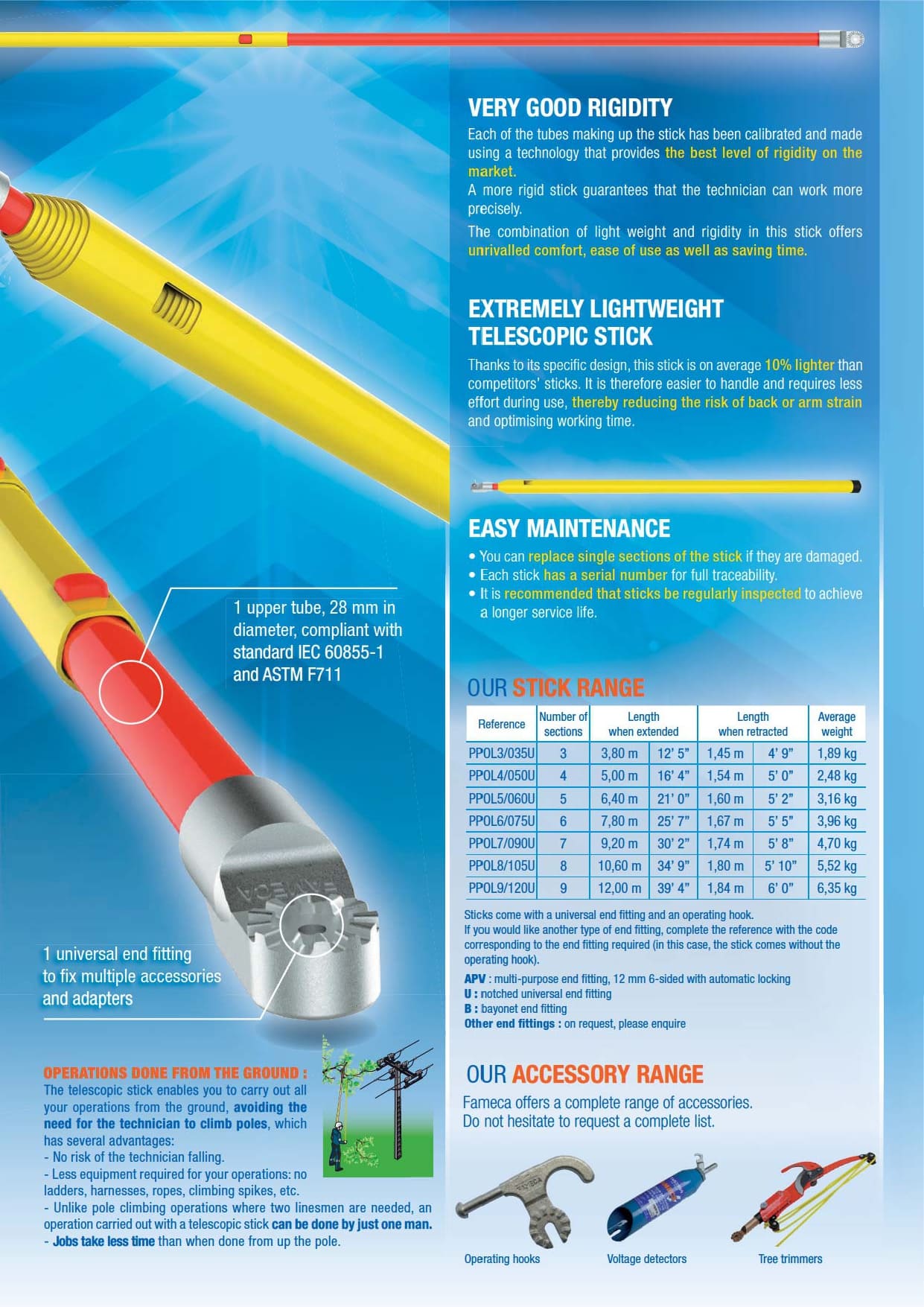 ---
Fameca High-Voltage Detector
Fameca HTAG High Voltage Detector (50 -765 kV)
Designed to check the absence of nominal voltage in a circuit of high voltage and very high voltage systems from 50 kV to 765 kV (voltage range according to IEC recommendation).
The HTAG detects any nominal voltage on overhead lines or substations.
The HTAG addresses all the needs and comment collected from users and experts in recent years.
HTAG - Optimum Sound Indication
Clearly audible in all working conditions
100 dB sound signal (from 1 metre)
Can be heard above traffic noise or strong wind, thanks to natural amplification by an acoustic horn
HTAG - Built for Your Environment
Direct Access to the Battery and a Sealed Electronics Compartment
Configuration that prevents the accidental swapping of housing and circuitry
Easy change of the battery on the job, even when working at height
Easy opening of the battery compartment with rotating latch that prevents the battery falling
Does not require access to the electronics
Optimal light indication
Light indication visible in sunlight and in fog
Wide visibility angle
HTAG Other Key Features:
AC voltage range possible choice from 50 to 765 kV Network frequency: 50 or 60 Hz (to be specified with the order)
Permanent standby status with automatic wake-up function
The presence of voltage within the calibrated range or above makes a RED indicator light up, and an audio signal is generated
Self-test OK: the OK status (ready for use) of the device is indicated by a GREEN indicator lamp
The self-test checks all the circuits, the reference detection level and the cell voltage
The self-test is repeated automatically throughout the ready for use state as indicated by the green indicator lamp (for 1.5 minutes)
The battery low level is indicated by a dedicated ORANGE LED indicator going on
Designed for outdoor use
Operating temperature: -25 °C to +55 °C
Humidity: 96 % max
Power supply voltage: 9 V alkaline cell – IEC 6LR61
Accepts the use of accumulators with identical supply voltage
Yellow or red polycarbonate housing
Dimensions: Ø 80 mm, L = 225 mm without the electrode
Net weight: 0.618 kg with stick end fitting, without electrode
Operating manual with a choice of languages, depending on the package
Package with three electrodes : 2 hooks: Ø 60 mm (AC 60) and Ø 120 mm (AC 120) and 1 straight electrode (D 100)
Absence of Nominal Voltage
The HTAG has a successful self-test (device ready for use) and the absence of nominal voltage in the calibrated range is indicated by the lighting up of the GREEN luminous indicator.
Presence of Nominal Voltage
The presence of nominal voltage in the calibrated range or higher voltage leads to the lighting up of the RED light indicator and triggers the sound signal.
Optimised indication that can be understood clearly in all working conditions:
The indicator light is visible in all usual working environments, in sunlight or fog, with a wide visibility angle
The 100 dB sound signal (from 1 metre) remains audible even over the noise of traffic or strong wind, thanks to natural conduction by an acoustic "horn"
What comes with the FAMECA HTAG?
(HTAG132400FCPB) HTAG High Voltage Detector
Metal Case
Fameca HTAG Specification:
Fameca HTAG132400FCPB:
Voltage range: 132 - 400 kV
Frequency: 50/60 Hz
Housing colour: Red
End fitting: Universal
Contact electrode: AC60/AC120 and V200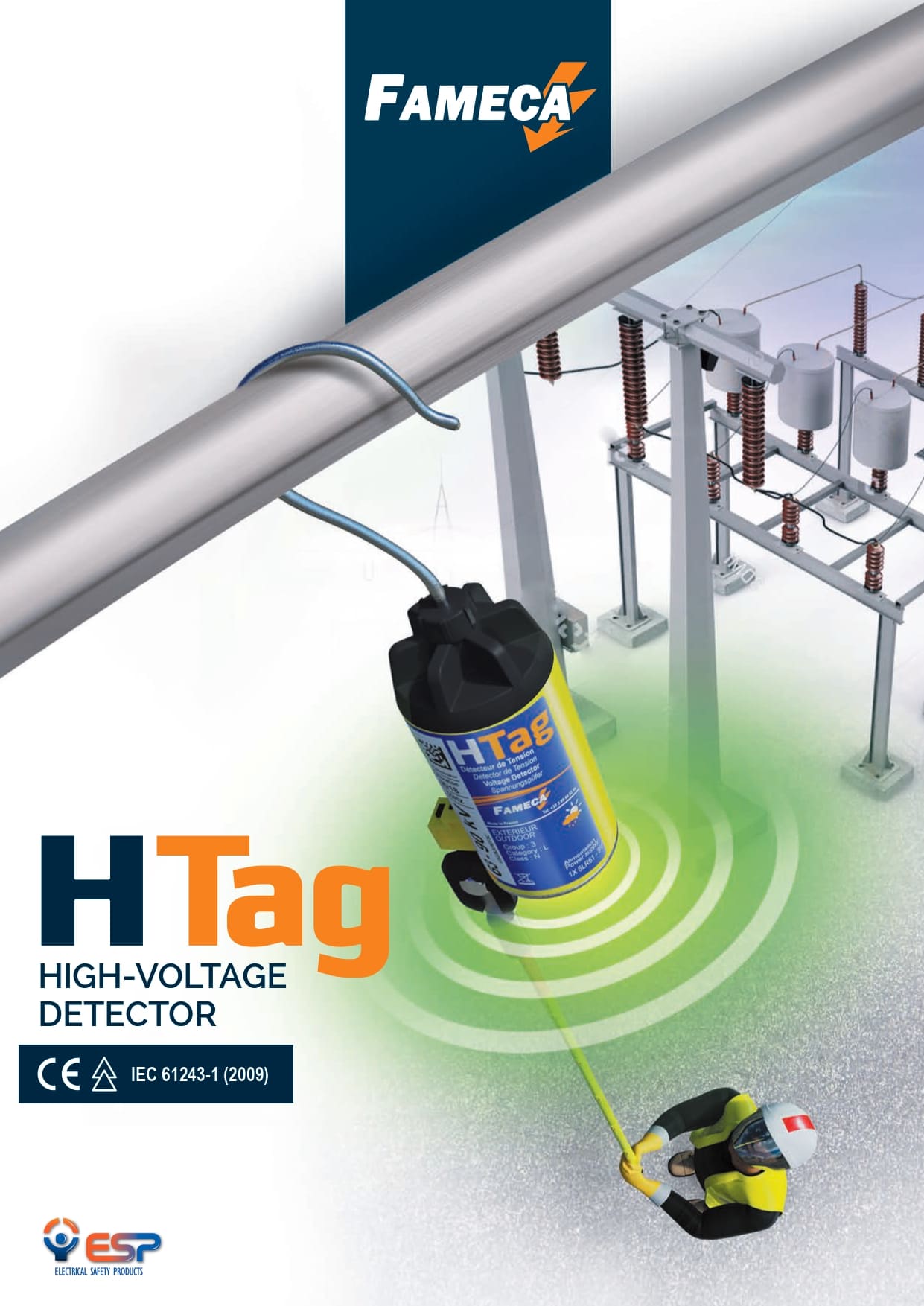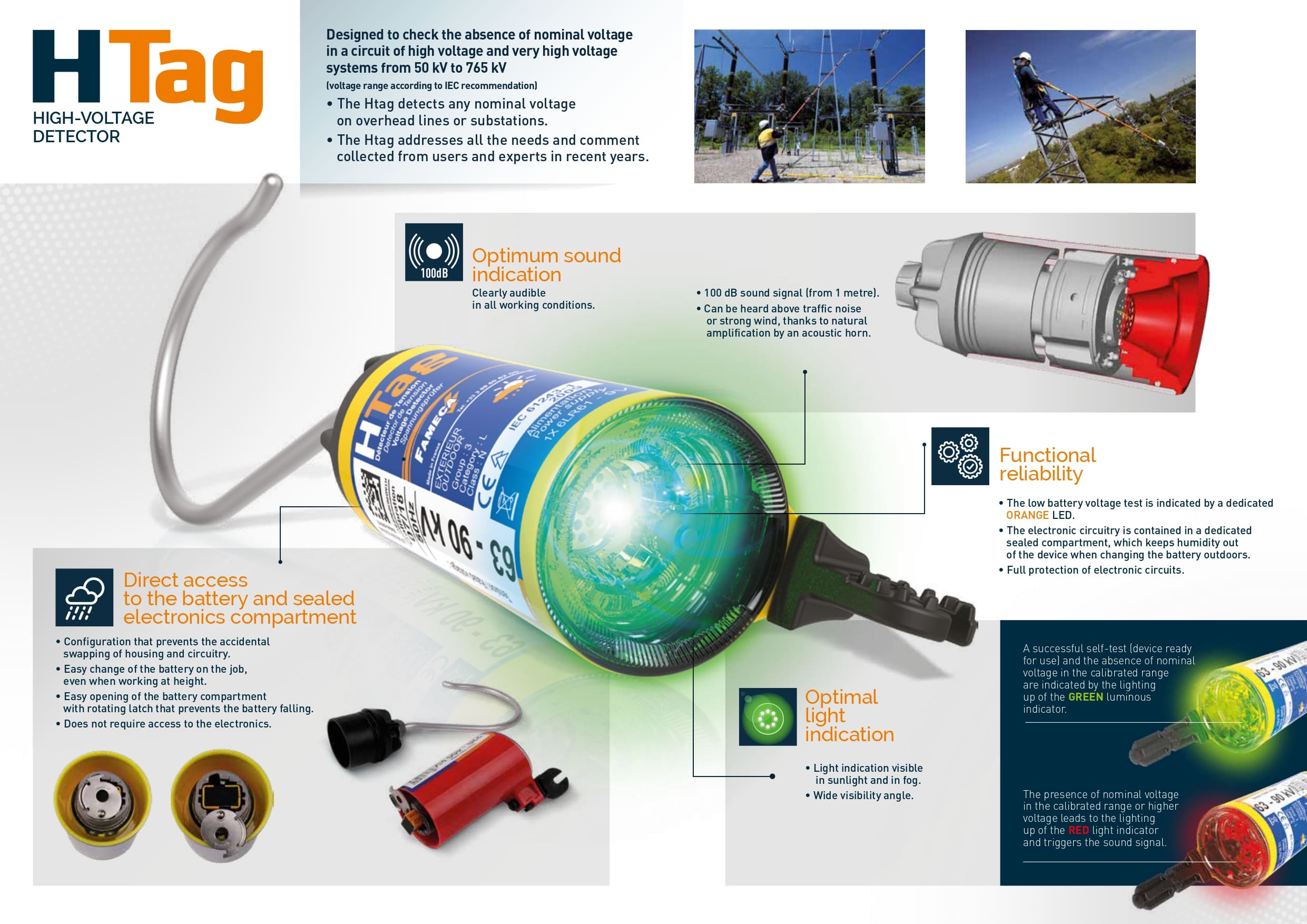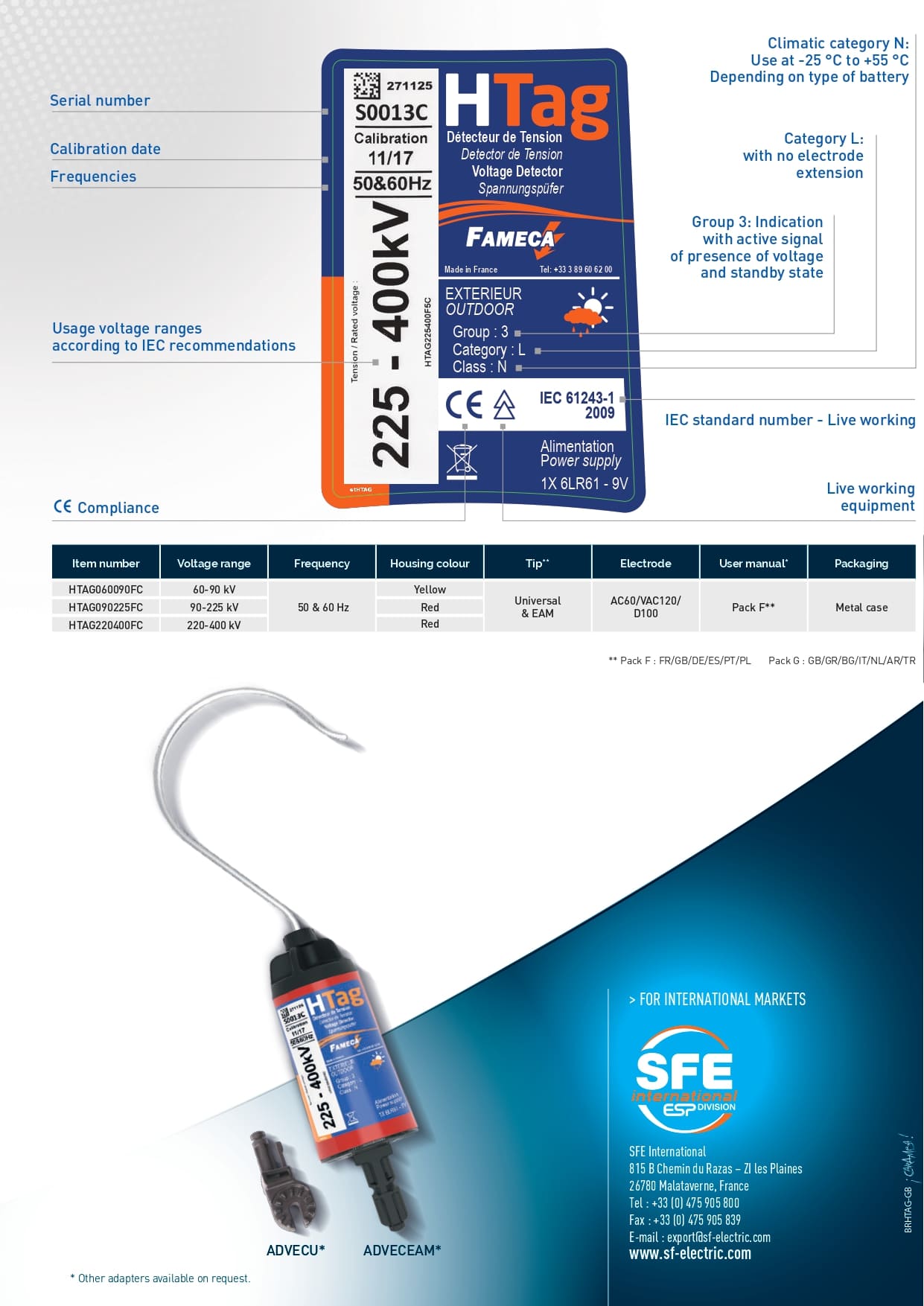 ---
Fameca FC5300
FAMECA FC5300 CABLE IDENTIFIER FOR LIVE CABLES
The FC5300 identifies a live low voltage cable among other cables without risk of error. It comes complete with a display which guides the user through the functions steps by step.
The ultra-sensitive directional probe improves resolution in cable harnesses and its reliable connectors are double-insulated, sheathed conductors - manufactured in accordance with new standards.
The FC5300 works on all types of cables: oil-impregnated paper insulated cables, synthetic cables, cables with double metal reinforcement, even heavily loaded cables, insulated overhead cables; in any environment, in-ground in urban, peri-urban and rural areas for all types earthing systems.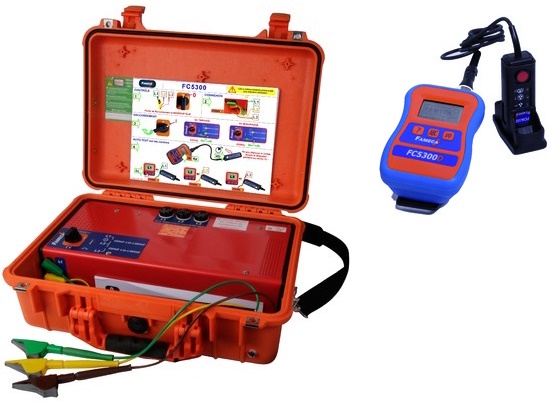 This device provides all the information necessary to identify a live LV cable among other cables without risk of error:
Identification of cables in open trenches or tunnels
Identification of the three phase conductors (L1, L2 and L3) on single-pole three-phase cables
Identification or confirmation of the source
Upstream and downstream cable discrimination at a given point of the network
FAMECA FC5300 KEY FEATURES:
Identifies a live low voltage cable among other cables without risk of error (works on all cable types)
Step by step on-display instructions
Ultra-sensitive directional probe
Double-insulated, sheathed conductors
Built-in self-test
Comes in a sealed, unbreakable case specially designed for field work
The detector charges using a standard USB-type mains or vehicle charger
Simplicity: the device is connected like any other (on the customer's premises or to a connection terminal downstream of the point to be identified